Thursday, 15 July 2010
Arcola , Indiana July 9th&10th 2010
Topic: Arcola, Indiana NTPA 2010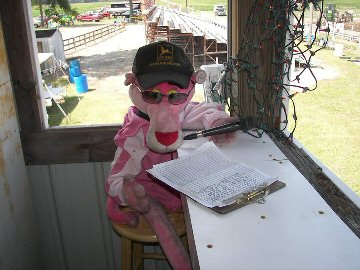 Started out friday morning early with rain here at home. We had everything ready to roll and was hopeful the weather report was right. No rain in Arcola and showers at home. Sounds good to me. We needed rain for the gardens and crops here.
Arcola promoter's ( VFD) had made a lot of improvements to the grounds. It is even nicer than before.
They run 2 tracks which helps so much when an event has a lot of vehicles to run through. No sitting and waiting for someone to hook. Gregg had them lined up and ready for each track. It was a great show both nights. Enjoyed seeing the new limited pro class. George Everett winning in the light SS class was good to see. His full pull pass was fast and the best I've seen George make in a while so he's got it on the right path now.
It seems like home town pull from the way we are treated. We visited with so many friends. Glad to visit with Sandi & Ted Coverdale. We've known them for ummm well let's say a long time. Enjoyed my visit with Dave Dann saturday and Dean Richwine too.
I noticed a pink creature , ( think it's called Pink Bandit) showing up at different places. He tried to take Banet's job announcing I heard. Rumor is he might be after Richwine's job.
All kidding aside this is a top notch NTPA event. If you have never been here then you need to give it a try next year. You won't be disappointed. Thanks to John Lancaster for the use of photo. Thanks to NTPA, Arcola & John Banet for all you do to make this a enjoyable fun place to go.
Posted by fondabarr at 3:01 PM EDT |
Post Comment
|
View Comments (3)
|
Permalink
Share This Post

Newer | Latest | Older